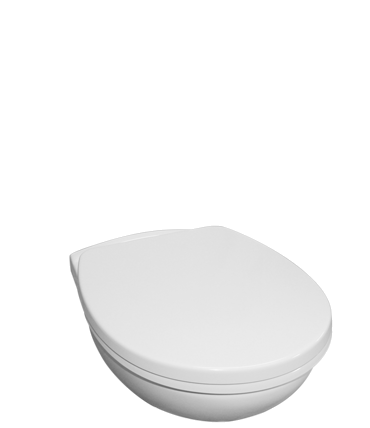 HYTO
simply elegant -
elegantly simple!
Order now
Clean - easy cleaning

The patented mechanism allows the separate removal of seat and lid with just one hand. The hinge area can now be cleaned with appropriate cleaners. Seat and lid are cleaned with mild soapy water under the shower jet or optionally mechanically processed in an industrial dishwasher (plug-in dishwasher).

Safe - stability with new technology

8 mm thick stainless steel hinge with full-length hinge axis for an extremely firm hold on the ceramic. Especially people with limited mobility (handicap, advanced age) appreciate this plus in safety. The hinge is suitable for all common bathrooms. Simply remove the existing seat and attach the HYTO system hinge with the enclosed tool.
Technical data - System dimensions (.pdf)

Certified - ready for the future

The basis for HYTO SAN is the "melamine" material. This material resists the effects of damp heat during machine cleaning. In medical tests, HYTO SAN toilet seats have proven to be the first sterilizable toilet system to use moist pressure and heat. This high material quality guarantees a consistent surface of quality and stability.
Expertise - Reprocessability of the Hyto toilet system (.pdf)
FOR EVERYONE THE APPROPRIATE HYTO
HYTO
PLUS
For households
UF:
To be cleaned under running water
HYTO
SAN
Specially for clinical and accommodation facilities
Melamine:
washer-proof
HYTO
MED
For the care sector
Polypropylene
HYTO Modular
HYTO Superior and HYTO San
Melamine
HYTO Plus
UF
HYTO MED
Polypropylene
Top mounting hinge
Stainless steel
Standard hinge
Stainless steel
If you are interested in HYTO Modular, please This email address is being protected from spambots. You need JavaScript enabled to view it.!
OUR HIGH QUALITY MATERIALS
Our high-quality thermosets Urea and Melamine, processed in Austria, are finished with antibacterial additives. The proliferation of bacteria is thereby demonstrably dammed.
MELAMINE -
Dishwasher safe
Melamine is known as a robust material for dishwasher-safe plastic dishes. Special resins combine the raw materials into a particularly compact and durable noble product. The special surface quality makes it possible to use it in dishwashers. Our melamine is also refined with antibacterial additives.
UREA -
well-known quality
The material Urea, which is known from high quality toilet seats, is baked in a hot mould in contrast to conventional plastics (thermoplastics). The resulting cross-linking of the molecules produces the characteristic strength and durability.
Urea is an exceptionally skin-friendly and hypoallergenic material. The production and disposal of Urea is particularly environmentally friendly due to the natural main ingredient cellulose.
STAINLESS STEEL -
LONG DURABILITY
The stainless steel alloy we use with the technical name X5CrNi18-10 is the first commercial steel grade that does not rust. The enormous resistance of the steel to water, detergents and acids guarantees brilliant and clean hinges over many years.